60% Savings!

Subscribe Today!

Subscribe to Assisted Living Consult in print at the Preferred Discount Rate of just $18.95 for a full year!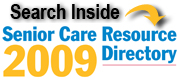 Advancing Senior Health (ASH) Conference: A Unique Interdisciplinary Senior-focused Conference
(PDF, 1 pages)
The Advancing Senior Health Conference (ASH), co-chaired by Mark Beers, MD, and Richard G. Stefanacci, DO, MGH, MBA, AGSF, CMD, and presented in cooperation with the University of the Sciences in Philadelphia (USP), will provide a forum to address complex issues in senior care. Healthcare professionals and payers are invited to the October 1-2, 2008, conference in Philadelphia.
• p. 19
Report from an Expert Symposium on Medication Management in Assisted Living
(PDF, 9 pages)
Assisted living experts from various professional perspectives discussed medication management during a symposium convened by
the Center for Excellence in Assisted Living (CEAL) and Assisted Living Consult on January 31, 2008, in Washington, DC. We present an in-depth report on their discussions about the challenges of medication management and the recommended solutions with actionable steps.
Jennifer Maybin

• p. 20
How Big an Issue Is Depression in Assisted Living?
(PDF, 6 pages)
This first of 3 articles on depression among assisted living residents focuses on the magnitude of the problem and the many available diagnostic tools. Future articles will discuss comorbidities, treatment options (especially those reimbursed by Medicare), supportive measures, guidelines for assessment and management, and quality measures.

Richard G. Stefanacci, DO, MGH, MBA, AGSF, CMD • p. 30
Alzheimer's Disease Facts and Figures 2008: A Report from the Alzheimer's Association (Part 3)
(PDF, 5 pages)
In the third of a series on Alzheimer's disease, Assisted Living Consult reprints the third part of the Alzheimer's Association report. This section discusses family caregiving.
PERSONAL REFLECTIONS ON ALZHEIMERS
Funneling, Funnels, Alzheimer's and Me
(PDF, 1 pages)
RICHARD TAYLOR, PhD, is a retired psychologist who lives with and writes about Alzheimer's disease (AD). Richard has agreed to maintain frequent E-mail contact with ALC to provide us with a diary of his impressions, struggles, and conquests. Richard Taylor's reflections on AD follow.
Richard Taylor, PhD • p. 47


Requests for reprints of Assisted Living Consult articles or permissions to
use article content may be sent to Jennifer Kenny at jkenny@healthcommedia.com.