60% Savings!

Subscribe Today!

Subscribe to Assisted Living Consult in print at the Preferred Discount Rate of just $18.95 for a full year!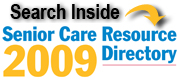 Good Behavior
(PDF, 414 KB)
Richard G. Stefanacci, DO, MGH, MBA, AGSF, CMD • p. 6
Wandering and Elopement: A Comprehensive Approach
(PDF, 246 KB)
Marie Boltz, MSN, APRN-BC, NHA • p. 17
What Wandering Tells Us About the Cognitively Impaired
(PDF, 253 KB)
Christine Peterson, CRNP • p. 26
Better Ways to Fall Asleep: The Danger of Benzodiazepines
(PDF, 427 KB)
William Simonson, PharmD, FASCP, CGP and Richard G. Stefanacci, DO, MGH, MBQ, AGSF, CMD • p. 29
Understanding Involuntary Emotional Expression Disorder
(PDF, 376 KB)
Randall Kay, MD • p. 33
Psychiatric Options in Treatment of Seniors
(PDF, 244 KB)
Leo J. Borrell, MD • p. 39
Requests for reprints of Assisted Living Consult articles or permissions to
use article content may be sent to Jennifer Kenny at jkenny@healthcommedia.com.