60% Savings!

Subscribe Today!

Subscribe to Assisted Living Consult in print at the Preferred Discount Rate of just $18.95 for a full year!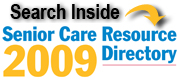 Impact
(PDF, 411 KB)
Richard G. Stefanacci, DO, MGH, MBA, AGSF, CMD • p. 6
Requests for reprints of Assisted Living Consult articles or permissions to
use article content may be sent to Jennifer Kenny at jkenny@healthcommedia.com.