60% Savings!

Subscribe Today!

Subscribe to Assisted Living Consult in print at the Preferred Discount Rate of just $18.95 for a full year!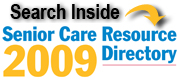 The Medicare Modernization Act May Help ALFs
(PDF, 554K)
While assisted living's exclusion from the government's definition of long term care was discouraging, the Medicare Modernization Act's provision regarding Special Needs Plans may present an opportunity for ALFs to enhance their long term service abilities. This story describes how the plans will work and how ALFs can explore options for developing or affiliating with SNPs.
Richard Bringewatt and Richard G. Stefanacci, DO, MGH, MBA, AGSF, CMD • p. 8
ALFs and PACE
(PDF, 1.03M)
This article demystifies the ins and outs of the Program for All-inclusive Care for the Elderly (PACE) and offers a look at how ALFs and PACE programs can partner to provide quality care and services to seniors.
William Orr, MD • p. 13
Osteoporosis Diagnosis and Treatment: Keeping Residents Safe at Home
(PDF, 607K)
It can be challenging to diagnose residents with osteoporosis and to get individuals with this condition to comply with treatments. However, these efforts can prevent fractures, hospitalizations, and even death; and they can help keep residents safe and happy in their AL homes. Learn about creative, effective ways to diagnose and treat osteoporosis in ALFs.
Joanne Kaldy • p. 15
Using the Maryland Assisted Living Functional Assessment to Establish a Plan of Care
(PDF, 353K)
ALC's first original research article discusses the benefits of a structured, comprehensive resident assessment designed specifically for ALFs. Researchers discuss how such an assessment helped identify the appropriate level of care for AL residents and how to harmonize assessments and care plans.
Barbara Resnick, PhD, CRNP, FAAN, FAANP, and Duk Yoo Jung, MSN • p. 20
Alert: Keeping Mosquito-Transmitted Diseases from Bugging AL Residents
(PDF, 353K)
This article discusses the disease risks mosquitoes pose for AL residents and how facilities can protect seniors from disease, keep potentially dangerous insects at bay, and promptly identify mosquito-transmitted illnesses when they are unavoidable.
Ann Byerly, RN, MPH, GNP • p. 27
Requests for reprints of Assisted Living Consult articles or permissions to
use article content may be sent to Jennifer Kenny at jkenny@healthcommedia.com.