60% Savings!

Subscribe Today!

Subscribe to Assisted Living Consult in print at the Preferred Discount Rate of just $18.95 for a full year!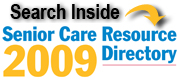 Caring for Those with Dementia in Assisted Living
(PDF, 211K)
Enabling residents with dementia to age in place safely and happily can be a challenge. Learn some keys to caring compassionately for patients with dementia and helping them to live with dignity and joy.
Anne Ellet, MSN, NP-C • p. 8
Networking the Assisted Living Facility with the Community
(PDF, 149K)
Community Care Continuums is a new and innovative vision for the future of senior care. Learn how the CCC works and how it might benefit seniors in your community.
Richard G. Stefanacci, DO, MGH, MBA, AGF, CMD, and Scott Bolhack, MD, CMD • p. 14
Storm Warning: MMA's Impact on ALFs
(PDF, 170K)
The Medicare Modernization Act is coming faster and furious. But how will it impact assisted living facilities? This tutorial outlines some of the key details of the new act and what ALFs can do to prepare for implementation.
Richard G. Stefanacci, DO, MGH, MBA, AGSF, CMD • p. 19
Medication Management Programs: A Safe Investment
(PDF, 156K)
Medication errors result in thousands of hospitalizations and deaths each year. Find out how building a solid medication management program can enhance safety and adherence and reduce unnecessary costs, hospitalizations, and other mediation-related problems.
Nancy L. Losben, RPh, CCP, FASCP • p. 23
Falls and Fall Risk
(PDF, 122K)
This summary of the American Medical Directors Association's clinical practice
guideline on falls and fall risk in long-term care settings offers a stepwise approach to preventing and managing falls in assisted living.
American Medical Directors Association • p. 26
Requests for reprints of Assisted Living Consult articles or permissions to
use article content may be sent to Jennifer Kenny at jkenny@healthcommedia.com.